About the Company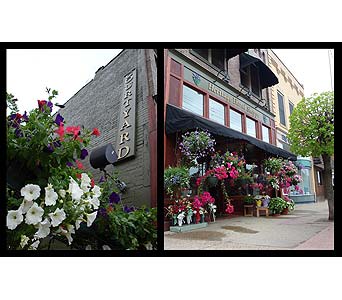 "Something Different !!" Heritage Floral Shoppe & Courtyard located in Ambridge PA specializes in Funeral Flowers, Home Decor items, and Fresh Flower Bouquets. Heritage Floral has one of the largest selections of fresh flowers in Beaver County. We create all of our arrangements with an artistic flare. We carry a large selection of sympathy gifts and tokens of remembrance.
Heritage Floral Shoppe
663 Merchant St
Ambridge,PA 15003
---
Store Hours:
Our shop is open from 10:00 a.m. to 4:00 p.m., Mondays thru Fridays.
Closed on Saturday and Sunday.
We are open by appointment only on Saturdays and Sundays, and we can do setups for weddings and events for these two days. We do service funerals on Saturdays and Sundays, please call to speak with our designers for availability.
Please place your orders as soon as possible to help assure on time holiday deliveries.
Please call to find out our extended hours and usually seven days a week during major holidays.
Payment Options
We accept the following payment methods:

Visa
MasterCard
Discover/NOVUS
American Express
House Account
Will Call In
Areas Served
Our shop serves the following areas: Ambridge, Aliquippa, Avelon, Baden, Ben Avon Heights, BelleVue , Center Township, Conway, Coraopolis, Edgeworth, Emsworth, Freedom, Fair Oaks, Hopewell, Leetsdale, Moon Township, Monaca, Rochester, and Sewickley . Our shop also serves the following zip codes: 15003, 15001, 15202, 15268, 15286, 15005, 15143, 15061, 15009, 15010, 15042, 15056, 15027, and 15074. Other delivery areas may be available upon request.
We also deliver to the following facilities:
Bohn Matich Funeral Home Inc
Gabauer-Matter Funeral Home
Harrington Homes Inc
Kasper Hahn Funeral Home
Kenneth E Hare Funeral Home
Maplewood Personal Care Home
Syka John Funeral Home Inc
Valley Care Adult Day Care
Mastrofrancesco Anthony Funeral Home 15001
Tatalovich Funeral Home & Cremation Services 15001
Pitts Funeral Home & Cremation Services 15001
Huntsman Funeral Home 15001
Coreless - Matter Funeral Home 15003
Simpsons Funeral Home 15061
Todd Funeral Home 15009
Noll Funeral Home 15009
J T Anderson Funeral Home 15009
Huntsman Funeral Home 15074
William Murphy Funeral Home 15074
J & J Spratt Funeral Home 15066
Richard D Cole Funeral Home 15143
Irvine Copeland Funeral Home 15143
Copeland Funeral Home 15108
Sanvito Anthony Funeral Home 15108
Huntsman Funeral Home 15108
Shellhaaus Funeral Home 15143
Coreless Matter Funeral Home 15003
Alverez Hahn Funeral Home 15003
Please Review Us! Just click the link below and tell us what you think!!
Specialty Services
Heritage Floral Shoppe & Courtyard is a full service shop serving its customers since 1976. We offer a wide range of floral items . In 2003 Heritage added 2200 sq. foot Courtyard( open May , seasonally ) filled with beautiful blooming plants, hanging baskets, flower boxes, dishgardens, european gardens, and seasonal plants. In 2005 Heritage underwent a complete renovation and expanded the fresh flower dept. by networking with international growers to offer a large variety of exotic flowers. If we do not have what you are looking for it will only take a day or two to get it, so please ask.
Other services and products offered are:
* High end silks , dried flower pieces and wreaths for your home. All Custom Orders after a design session.
*Funeral Keepsakes: Tapestry's, Throw Blankets, Wind Chimes, Stone Poems, & Lanterns.
* We now offer shipping of any of our products nation wide with UPS.
*We offer same day delivery of fresh flowers nation wide by Teleflora and international orders are delivered with a 5 day notice by Teleflora.
Thank you for taking a look at our website and we look foward to hear from you soon.
Contact Information
If you have any questions or need more information, please contact us by e-mail customer service or call us. We're always here to serve you and make your flower-sending experience a pleasure.
Delivery Policy
A local delivery fee of $10.00 will be added to each order. Orders outside local delivery area may have varying fees depending on the distance. U.S. orders must be received before 12:00 noon in the recipient's time zone to assure same-day delivery. Orders received after that time, will be delivered the following day. Delivery requests such as: Saturday and Sunday delivery may be possible, please call to inquire. We will be happy to accept your international orders if you call our shop directly. We are unable to accept international orders over the Internet.
Heritage Floral Shoppe Substitution Policy
Occasionally, substitutions may be necessary to create your bouquet due to the availability of certain flowers in various parts of the country. Care is taken to maintain the style, theme and color scheme of the arrangement, using flowers of equal value. Additionally, the substitution of certain keepsake items may be necessary due to increased demand, especially during major holidays. In single-flower arrangements, such as an all rose bouquet, or orchids, we will make every attempt to match the flower type, but may substitute with another color.
Heritage Floral Shoppe Privacy Policy
This privacy statement has been created in order to demonstrate our firm commitment to protecting customer privacy.

Information We Collect

If you open an account on our site or make a purchase, we need your contact information including your name, e-mail address and mailing address to complete your transaction.

When you visit our website, we also collect some basic information that does not identify individual users. We use this information to determine our users demographics and interests, so that we can better understand and serve our users.

"Cookies"

Cookies are small files which store certain information about your activity on the website and are stored on your computers hard drive. Our cookies do not contain any personally identifying information. We use cookies to let us know that you are a prior customer, so that you dont have to reenter information you gave us on your prior visits. Most web browsers automatically accept cookies, but most allow you to instruct your browser to prevent the use of cookies. However, if you disable cookies, you will not be able to use certain features of this website.

Our Use and Disclosure of Your Information

When opening an account or making a purchase, you have an opportunity to opt-in or opt-out from receiving emails from us. If you opt-in to receive information from us, we may use your purchase history, contact information and other registration information to provide you with more relevant information and email content. We may send emails to our users regarding changes in our services or other information we believe will be of interest to our users. If you prefer not to receive these emails, you can send us an email with the subject line no emails or reply to our email with the subject line no emails.

If you send us personal correspondence, such as emails or letters, or if other users or third parties send us correspondence about your activities on our site, we may collect such information. We may use that information and other information that we obtain from your use of our site to resolve disputes, troubleshoot problems and enforce our agreement for Terms of Use.

We may share aggregate statistics about our sales, traffic patterns and related site information with other businesses, but these statistics will include no personally identifying information.

We may share your information with Teleflora and other reputable vendors for the purpose of sending out special offers via email and/ or in connection with the services provided by our site such as the delivery of flowers. Your information will not be shared for any other purpose and will be kept secured.

We cannot ensure that all of your private communications and other personally identifiable information will never be disclosed in ways not otherwise described in this Privacy Statement. For example, we may be required to disclose information to the government or third parties under certain circumstances, or third parties may unlawfully intercept or access transmissions or private communications. We can (and you authorize us to) disclose any information about you to law enforcement or other government officials as we, in our sole discretion, believe necessary or appropriate in connection with an investigation of fraud, intellectual property infringements, or other activity that may be illegal or may expose us to legal liability.

Security

This site has security measures in place to protect the loss, misuse and alteration of the information under our control.

All user credit card information is securely communicated using secure socket layer (SSL) software, which is the industry standard and among the best software available for secure commerce transactions.

All user information stored on our server is stored in an encrypted format. Notwithstanding these efforts, we caution you that perfect security does not exist on the Internet.

Linked Sites

If this site contains any links to other websites, we are not responsible for the privacy practices or the content of such websites.

Changes to Privacy Statement; Consent

We may update this Privacy Statement from time to time. You should check this page periodically for changes. By using our site, you consent to the collection and use of your information by us as described in this Privacy Statement.

Questions and Comments

We welcome your questions and comments about this Privacy Statement.